The IELTS Speaking part is divided into 3 parts. The format is the following: the examiner's question – your detailed answer.
Speaking part of IELTS is a face-to-face, informal discussion with an IELTS examiner. However, we do not ask the examiner questions; you can only ask the examiner to repeat the question, if you didn't hear or understand it - the score is not reduced for this.
This part of the test begins with the examiner introducing himself or herself and checking the candidate's identification. It then continues as an interview.
IELTS Speaking Part 1

In this part, you are asked general simple questions about you so that you can relax and chat about what you are doing, what you like, etc.

The examiner gives you a cue card with a topic, pencil and paper.
IELTS Speaking Part 1 Questions
IELTS Speaking Part 2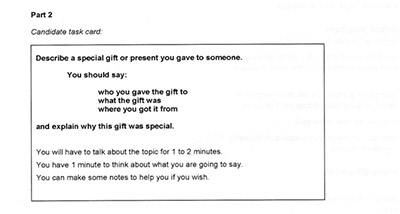 2nd and 3rd parts have there are much more questions than in the 1st one. But, you can find out with some of the tasks of part 2 and sample questions of part 3 in advance:
You have 1 minute to get ready. You can write some keywords or a short plan of your answer on a piece of paper.

Speak for 1-2 minutes, then the examiner asks a couple of more questions on the topic.
IELTS Speaking Part 2 Questions

IELTS Speaking Part 3
In the last part, the examiner asks questions about the topic on your cue card. For example, in this case, the topic is gifts, so further questions might be about gifts in the family, the country's economy and gifts, etc.
IELTS Speaking Part 3 Questions

---
It is important to understand that in the 3rd part you are NOT talking about yourself:
IELTS Speaking Part 1 - About yourself


IELTS Speaking Part 2 - About yourself


IELTS Speaking Part 3 - About the world, society in general

---
How to master IELTS Writing: Task 1 & Task 2
Full IELTS Writing (Ac) Course
14 lessons / 7+ hours of video content
How to write an answer to ANY type of Essay task
How to write an answer to ANY type of Graph task
How to structure your answer
What to write in each paragraph
What grammar to use
How to link your ideas
What vocabulary to use
What you should write to get a high score
Bonus: IELTS Punctuation PDF Guide
Everything you want to know to have correct punctuation in your IELTS Writing for 7.0-9.0 Score
(31 pages, .PDF)