IELTS Speaking Vocabulary: Accommodation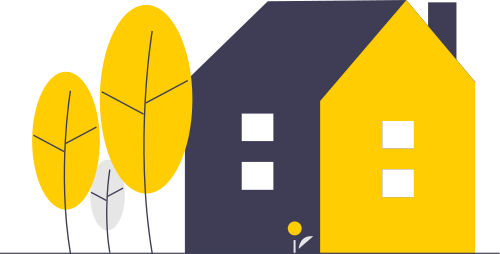 In Part 1 of IELTS Speaking, the examiner usually chooses the first topic out of these two: Work / Studies or Accommodation
Word list on Work topic here: https://yourielts.net/prepare-for-ielts/ielts-vocabulary/work-vocabulary
Word list on Studies topic here: https://yourielts.net/prepare-for-ielts/ielts-vocabulary/studies-vocabulary
Possible questions about Accommodation:
Speaking Part 1 - Accommodation
Do you live in a house or an apartment/flat?

What do you like about living there?

Which is your favourite room in your home? Why?

Would you change anything about your home? Why/why not?

Would you like to move to a different home in the future?

What sort of accommodation would you most like to live in?
>> Download this Vocabulary list in PDF
Words and grammar for a high score

I live in a three-room flat on the 5th floor.
I live in the suburbs.
I live in a block of flats on the 2nd floor.
I live in a three-room flat in the south of Moscow.
I live on campus… in a single room in a hall of residence.
I rent a flat in the centre of the city
I've lived there for just over a year.
I've been living in my flat for …
I've just moved in (переехал)
I used to live in ...
I've been meaning to redecorate my flat since I moved in. It needs a new bathroom and wallpaper.
Have my flat redecorated.
I'd like to have my kitchen redecorated.
I'd definitely move to a house if I could afford to.
I'd like to live in the countryside.
I don't have a favourite room, but if I had to choose, I'd say the kitchen because that's where I can have a delicious meal and unwind after a hard day at work.
I have nothing to complain about with regard to my current accommodation.
If I had more money I'd rent a flat with a spacious balcony.
kitchen appliances
all sorts of gadgets
open-plan kitchen
a modern flat with all the mod cons
A spacious lounge
Large windows let in plenty of natural light
The windows have wonderful views over the …
There are lovely views of the …. from my windows.
I live in a two-storey house
To take out a mortgage (взять ипотеку)
There's no place like home
My house is walking distance from stores and restaurants a short drive from the metro.

Adjectives

Spacious
Cozy
Comfy
Tidy =clean
Cramped
Ideal
A bit messy
Brand new
Bright
Sunny
Warm
Floor-to-ceiling windows
Fully furnished
Modern
Pefect
Attractive
Homely
Modest
Elegant
Airy
Spotless
Large
Neat
Tiny
Peaceful
Roomy
Picturesque
Charming
Colourful
---
How to master IELTS Writing: Task 1 & Task 2
Full IELTS Writing (Ac) Course
14 lessons / 7+ hours of video content
How to write an answer to ANY type of Essay task
How to write an answer to ANY type of Graph task
How to structure your answer
What to write in each paragraph
What grammar to use
How to link your ideas
What vocabulary to use
What you should write to get a high score
Bonus: IELTS Punctuation PDF Guide
Everything you want to know to have correct punctuation in your IELTS Writing for 7.0-9.0 Score
(31 pages, .PDF)